HackSpace no. 4: Wearables Cover Feature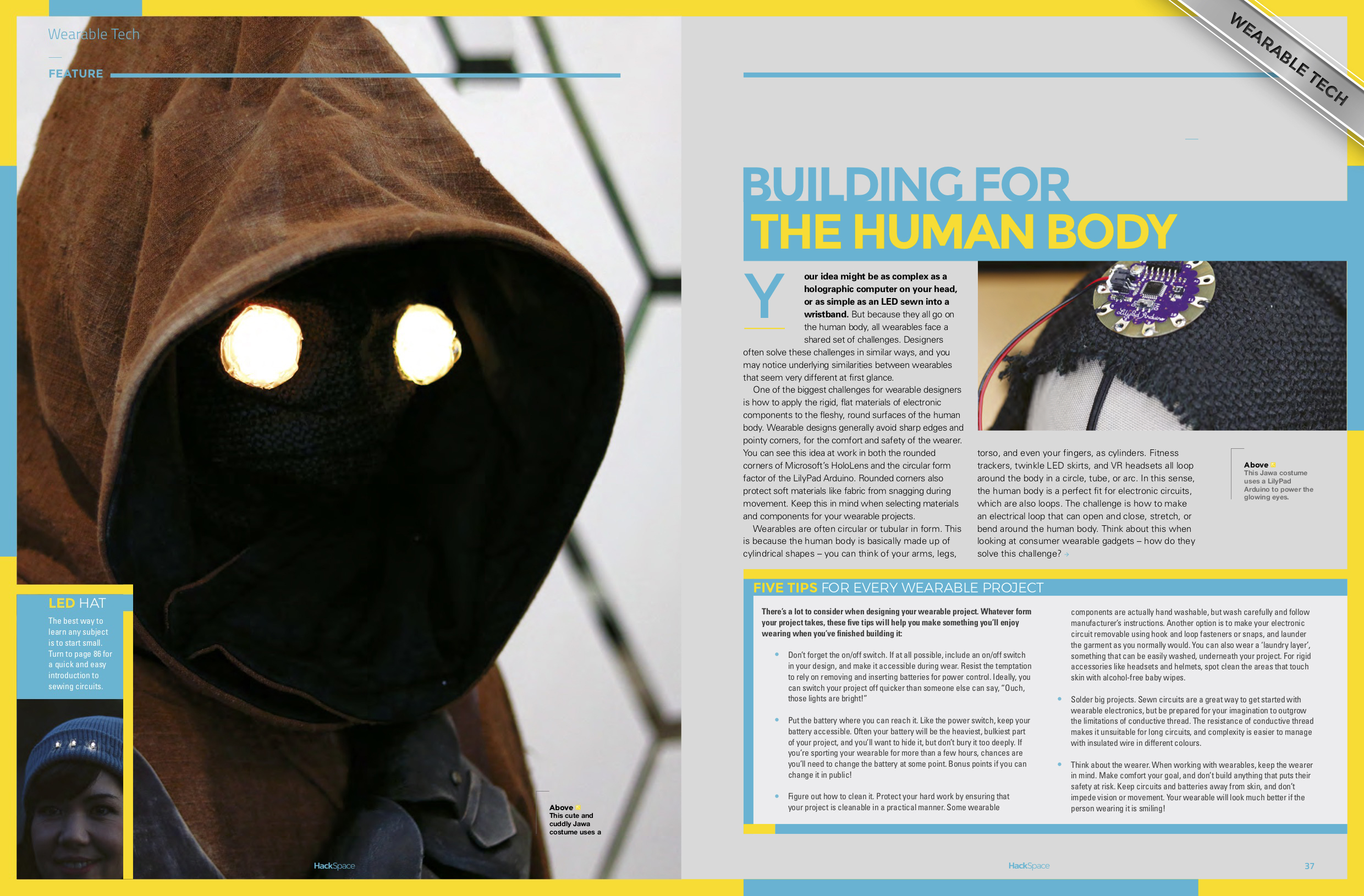 For issue number 4 of HackSpace Magazine, I wrote a massive feature article on getting started with wearables. It's packed with information on how to build for the human body, from design concepts to choosing batteries and microcontrollers.
The article also includes a gallery of inspiring makers and their mind-blowing work in wearables. Free PDF of the issue available here.
NeoPixel Manicure
In this guide for Adafruit, I show how to build a reusable manicure with NeoPixels. This project looks great when photographed, and is perfect for adding tech drama to a photoshoot or cosplay. Follow the guide here.
In this tutorial for issue no. 8 of HackSpace, I show how to make an LED color sensing bag using Adafruit NeoPixels and Circuit Playground Express. It's a quick and easy build that's great for beginners. Download the full PDF here!
HackSpace Review: NFC Nail Stickers from PiMoRoNi
I wrote a review of these NFC Nail Stickers from PiMoRoNi for issue no. 7 of HackSpace Magazine. Read the review here.
HackSpace Issue no. 6 - Circuit Playground Express Tote
In this tutorial, I show you how to sew a Circuit Playground Express onto the front of a tote bag, for a project that's portable and endlessly hackable. Free PDF of full issue available here, see page 82 for my article!
Circuit Playground Express Con Badge
This is a project I designed, built, and documented as a learning guide on the Adafruit Learning System. Based on the amazing badges of DefCon, this is a Circuit Playground Express mounted on a laser-cut back plate with copper foil capacitive touch pads. See the full guide here.
HackSpace Issue no. 5: LED Fashion
My article in issue number 5 of HackSpace shows three different wearable projects all built with the same simple circuit. Learn how to put LEDs into your hoodie, make a fashionable headband, and build your own Star Trek-inspired com badge, all with capacitive touch! PDF of the full issue available here.
SelfieBot Tutorial on Adafruit
SelfieBot is an instant Raspberry Pi selfie camera with a personality. Check out the full build tutorial here. This tutorial also appears in issue no. 63 of Make: Magazine!
Experimenting with Conductive Heater Fabric
In this Adafruit guide, I play with conductive heater fabric, control it with a Metro M0 Express, and use heat-reactive paint for a cool hyper-color effect. Read the full guide here.
LED Snowboard Goggles in HackSpace Magazine
I wrote this tutorial for adding an LED strip to a pair of snowboarding goggles for HackSpace Magazine Issue No. 2. Download the magazine for free here! See page 86.